The 2021 Women's Prize for Fiction has been an unusual one. Normally, our Shadow Reading Group has about six weeks to read the shortlist once it has been announced, formulate their thoughts and pick their winner before we meet to discuss and share our opinions.
With the continuing Pandemic, dates have been moved, announcements rescheduled and timescales have shifted (though this was no bad thing as it gave us lots of time to read and absorb the titles). We're pleased to say that the Group have met, have shared their thoughts and picked both their favourite and the one they think the judges will pick (sometimes, these are the same titles, although not always – we'll reveal this year's picks towards the end of this post!)
This year's Women's Prize for Fiction will be announced on Wednesday 8th September at an event held in London. Judges Bernardine Evaristo, Elizabeth Day, Vick Hope, Nesrine Malik and Sarah-Jane Mee will preside over the event with the winner presented with a cheque for £30,000 and a limited edition bronze figurine known as a 'Bessie', created and donated by the artist Grizel Niven. 
---
Before we get to our big announcement, here's an overview of what the Group thought about each title. If you'd like to share your thoughts too, we'd love to hear them – add them to the comments.
The Vanishing Half by Brit Bennett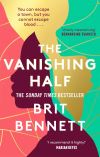 This title is already hugely popular, having won a number of awards already and been on the bestsellers list. It's in the Warwickshire Libraries' Reading Group Collection too and it's not hard to why it has been so widely read.
Our Shadow Reading Group felt that this was a very timely novel, covering very current topics such as identity, race and gender but in a way that was very readable and accessible. Some elements of the book made it an uncomfortable read at times and the pace of the story picked up towards the end as different threads of the plot merged and combined together towards its conclusion.
Some members of the Group commented that this was one they will likely read again as they felt a second read would expand the story and give more to think about. Others have recommended it to others and we all could see why it has made so many lists and gained such a following.
Piranesi by Susanna Clarke

The Group felt that this was quite an unexpected addition to this year's shortlist. While Clarke's reputation is well known, we wondered whether it would be difficult to follow such a widely acclaimed novel as Jonathan Strange and Mr Norrell. Piranesi, we felt, was a worthy follow up but as a more "phantastical" novel full of phantasy elements, this made it an unusual choice for us. We talked a great deal about the language and imagery used in the book – what happens is beautifully described and helped make this an interesting read, even if at times, we weren't sure what it all meant.
A few members weren't sure where the story was leading at times, and for some, they reported that they had to have two or even three goes at getting into the novel before they got to the end. There are elements of mystery, magic and themes of mental health which make this a visual read but one that needs thinking about to grasp all the deeper meanings.
While the Group felt that the ending was clever, we weren't quite sure this was a winner, though do recommend it to any one who likes books about art, magical elements and fantasy.
Unsettled Ground by Claire Fuller
This book was described as "relentless" and a bit of a slog by some members, while others found it an interesting read (though 'enjoying' wasn't really the right word to use to describe the reading experience). A lot of darker things happen to the main characters and it is quite a tough read in places as it touches on death, grief, homelessness and how an individual can end up on the edges of society. Having said all that, this was a very readable novel with lots of layers which would make this a great reading book group with much to discuss.
Thoughts from the Group included that the novel is resolved at the end (although perhaps a little too easily) and there were relationships that some felt could have been explored in more depth. This was another novel looking at identity and how we make ourselves acceptable to others (or don't in the case of some of the characters). There were also some frustrating plotlines that annoyed some Group members.
Overall, the characters inspired our empathy and, while we felt this was a good book and were pleased to have read it, the Group weren't sure it was a winner either.
Transcendent Kingdom by Yaa Gyasi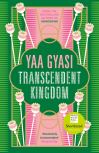 This was a title that, on initial impressions, a few in the Group didn't think they would enjoy. They were, however, pleasantly surprised to discover that it was quite a page turner and one that they enjoyed reading. It is a very well written novel and covers scientific topics which aren't often seen in fiction. The relationships between characters were heartbreaking in places and the timeline of the story was very well managed – although the story moved from present to past, we always knew where we were.
The ending of this was satisfying – the main character's story is well concluded and the focus was put on her career rather than her love life which we appreciated. The writing was once again beautiful – we knew what drove each character, events were explored well and for some members of the Group, this was their favourite of the shortlist.
Members did have a word of caution to share though – the novel has a very powerful depiction of what happens during opioid addiction.
How The One-Armed Sister Sweeps Her House by Cherie Jones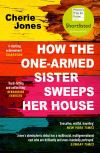 This novel starts with a bang – quite literally! It is another quite dark read, featuring death, crime and abuse but it is very readable. The language used is very matter of fact and characters are depicted well – they inspire empathy and distaste in often equal measure.
On the less positive side, this is another novel that has an unsatisfactory ending – while the 'tension' of the story was resolved, it all felt a little too easy. Things slotted into place simply and it all felt a little too 'fairytale'.
Several of the Group were, however, surprised by this novel and how much they enjoyed reading it, despite the topics covered. It gave a very bleak but seemingly open view of what life was like on both sides of the society featured. It also showed how for some, they will strive to win at all costs, no matter the consequences for them or for others.
A thought-provoking read that we thought could do quite well.
No One Is Talking About This by Patricia Lockwood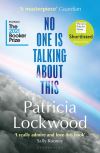 This is a novel that for some Group members felt like a blog rather than a novel and for some, felt more like a fictionalised memoir. It covered a lot of very large topics and had a lot of messages to impart to its reader – from abortion to technology, family relationships to making the most of the time we have in this world.
The second half of the novel engaged the Group more than the first half and it did make us ponder a number of big questions such as can we ever know someone from just their online presence? Is the life we portray online ever a true reflection? We felt there were lots of comments on modern life and that made it a very contemporary novel, though we did fear that this could make it date quite quickly and we wondered whether people would still read it and find something in it in 5/10 years time.
This one has also made this year's Booker Prize Longlist so we will be keeping an eye out to see whether it makes that shortlist too.
---
After our discussions of each book, the Group picks a winner. For this year's shortlist, we all felt that each novel had something in it that will stick with us. For some, it was the language and imagery conjured by the writing, for others it was the messages and thoughts they provoked and for others, it was the overall impression we were left with when the last page was turned. We asked ourselves which we felt would 'last' (i.e. were there any modern classics in the shortlist and titles that will likely continue to be read into the future) and whether some may not age well.
We also picked our winners:
Our pick (our favourite of the shortlist): The Vanishing Half
Who We Think The Judges Will Pick: For this year's Prize, we pondered whether the extension of the winner's announcement might have an impact on the result. The Group have managed to meet twice to share thoughts and while most members hadn't changed their minds about which book they wanted to win, some questions were raised about which we thought the judges might pick after further reflection and reading. We have a little hunch that Piranesi might win for its poetic language but we wondered whether its fantastical elements might be a hurdle to its triumph? Overall, the Group felt that The Vanishing Half might scoop it, though How The One Armed Sister Sweeps Her House might be in with a shot too!
Who do you think will win? Find out on Wednesday 8th September!
---
Do you agree with the Group's thoughts about the books on this year's Women's Prize for Fiction shortlist? Do you agree with our picks for the winner? Let us know in the comments.
If you would like to know more about the Shadow Reading Group, please email libraryevents@warwickshire.gov.uk.
Happy reading!