What are you reading this month? Do you have your book list all planned out or are you looking for some reading inspiration? If it's the latter, the staff at Rugby Library have some reading suggestions for you to ponder.
The titles will either be available from our library shelves or as eBooks or on eAudio via BorrowBox. To plan your next visit to our libraries, find out opening times and all the safety information you need to know, visit our website. If you're new to BorrowBox, we have a short 'BorrowBox Basics' guide and a 'Tips and Tricks' video or you can email libraryenquiryteam@warwickshire.gov.uk for help with BorrowBox or any of our eLibrary resources.
Let us know what you've been discovering this month and if any of these catch your eye.
---
Dee
The Prime of Miss Jean Brodie by Muriel Spark 
The tale of a so-called progressive teacher in an Edinburgh girls' school during the 1930's, and the young girls experience and opinions on their teacher over the years. 
A fascinating analysis of the characters, from Miss Jean Brodie and her fellow teachers and the young girls that she teaches. It gives a real insight into the pre-war lives of women and attitudes towards marriage and relationships. 
The Vanishing Half by Brit Bennett 
Beautifully written and a fascinating story of twins and their very different lives as they mature into women and have families of their own. This is a story of interconnecting lives of the twins and their daughters. A tale of identity and prejudice, racism and the lies we weave to protect or create a better life.
Captain Tom's Life Lessons by Tom Moore 
Life affirming, and beautiful little nuggets of wisdom on life. Inspiration to hold close to as we navigate through life's rich tapestry, the human spirit is an incredible thing, and this book leaves you feeling hope in an era of fear and confusion.
Hungry by Grace Dent 
Grace Dent is a year older than me, and I relate to her growing up through the late 70s, 80s & 90s. Also, so relatable the family occasion a trip to the supermarket, the joy and fun it would be. Grace's story is told through food anecdotes and is told with humour and irony throughout. It is also a story of family life and all its intricacies and white lies. Any Grace Dent fan will love this on BorrowBox as she narrates and at the end is a little podcast-style interview done by Jay Rayner. 
The Fine Art of Invisible Detection by Robert Goddard 
An exciting thriller, a real page turner full of twists and turns and suspense. A story spanning Japan, England and the USA. The story starts with Wada, the secretary of a private detective, being thrown into her boss' investigation when her boss sends her on a mission to England and then he is murdered. 
---
Alice 
Margrave Of The Marshes by John Peel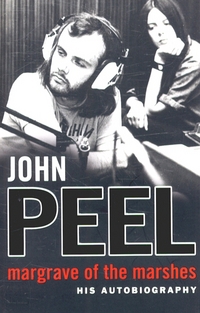 Funny, interesting, deadpan at times it really speaks with his voice. Plus his relationship with his wife, Pig, really is marriage goals! 
I grew up listening to John Peel because my dad was a fan so he has been a part of my life since I was very young. This is an autobiography but his wife finished the writing after his death. 
From the book's blurb: John Peel was one of the most influential figures in modern popular music, and it was thanks to his Radio One show that bands such as T-Rex, The Smiths, Radiohead and The White Stripes first came to prominence. This is his story, which he began to write just before his untimely death in 2004.
---
Cheryl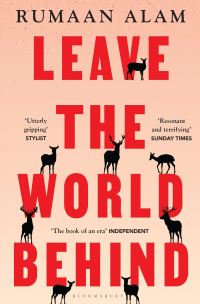 Leave the World Behind by Rumaan Alam 
It took me a long time to decide whether I loved or hated this book.  It seems to have very mixed reviews and I can see why.  Not an enormous amount happens, but equally an enormous amount happens.
A couple arrive at their idyllic, isolated holiday home only to be joined the next day by the couple who say that they own the house and need to shelter there.  There are no phone signals and no way to know what is going on, just talk of a 'blackout'.  The author gives glimpses of some global catastrophe, hinting at climate change, political tensions, secret weapons, etc, and the reader is left with the unsettling feeling of knowing that the character's lives are going to change forever before they do. 
I enjoyed the writing style – deliberately intense and unsettling. It is very atmospheric and has some excellent small observations.  However, I did not especially like any of the characters and I would have liked a little bit more of a plot.  I found the ending quite frustrating, but I suspect this is to deliberately make the ending more of a beginning, with what is to come only hinted at.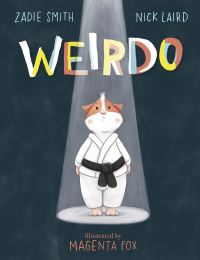 Weirdo by Zadie Smith and Nick Laird.  Illustrated by Magenta Fox 
I absolutely adore this book!  It is a gorgeous children's picture book about a little guinea pig named Maud who doesn't quite fit in. 
She likes to wear a judo suit and doesn't understand 'The Schedule' that the other pets in her new home seem to live by.  She meets a wonderful character who helps her recognise that it's ok to be different. 
The illustrations are beautiful with lots of lovely details.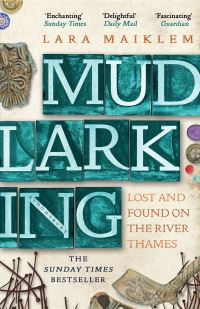 Mudlarking by Lara Maiklem 
This non-fiction book is strangely engaging and made me feel like taking up 'mudlarking'!  
It is the story of London through history, told via the items that are found along its muddy riverbed. Lara Maiklem's passion for her job is obvious and some of her finds have been momentous. 
I would have liked more pictures and maps, but her descriptions are brilliant.  It is a fascinating read. 
---
Jo 
I Love The Bones Of You by Christopher Eccleston
This biography focuses on key aspects of Eccleston's life: the work ethic and integrity of his parents; the impact of his social class background on his career as an actor; his brave account of body dysmorphia, a topic so rarely discussed by men; and the changing nature of his relationship with his father as he battles dementia.
Intertwined throughout are some fascinating insights into the portrayal of the working class and those with disabilities in TV and film, and an explanation of the motivation behind some of Eccleston's professional roles.
The fact that the Borrowbox version is read by the man himself is an added bonus that makes it all the more compelling. Loved it! 
The Truth Must Dazzle Gradually by Helen Cullen  
A sweet story of family love and commitment, heartache, and new beginnings. We follow Maeve and Murtagh, their first meeting in Dublin, their relocation to a remote Irish island, and the challenges of raising four children.
This is the kind of book I love. There is very little in terms of dramatic action or major plot twists, just a gentle portrayal of the day-to-day life of this family, the tragedy they experience, and finding love again in unexpected places. Fabulous! 
The Lamplighters by Emma Stonex 
Set in Cornwall in 1972, three lighthouse keepers are missing, the lighthouse is locked from the inside, and none of them are seen or heard of again. Twenty years later, a journalist investigating this event seeks out the three women left behind who are not always willing to cooperate.
Each chapter moves from the men's lives before they went missing to the present, slowly unveiling the circumstances of their disappearance and finally revealing what happened on that fateful evening.
Gripping! 
---
Halina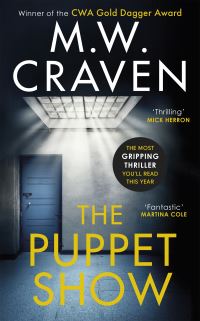 I'm making my way through the Washington Poe series by M W Craven.
The first in the series is 'The Puppet Show' and its blurb tells that: "A serial killer is burning people alive in the Lake District's prehistoric stone circles. He leaves no clues and the police are helpless.
When his name is found carved into the charred remains of the third victim, disgraced detective Washington Poe is brought back from suspension and into an investigation he wants no part of. Reluctantly partnered with the brilliant, but socially awkward, civilian analyst, Tilly Bradshaw, the mismatched pair uncover a trail that only he is meant to see.
The elusive killer has a plan and for some reason Poe is part of it. As the body count rises, Poe discovers he has far more invested in the case than he could have possibly imagined. And in a shocking finale that will shatter everything he's ever believed about himself, Poe will learn that there are things far worse than being burned alive." 
---
Matthew
Second Place by Rachel Cusk
Grumpy artist comes to stay at a writer's cabin and it's all a bit awkward. Well-written, although I ended up not liking any of the characters (except Tony) and didn't enjoy it as much as the other book by Rachel Cusk that I have read, Outline. 

Rememberings by Sinead O'Connor
I rarely 'LOL' at books but I did with this one. Sinead has a wicked turn of phrase and she writes about every event in her life, whether a good one or a terrible one, with customary humour. She says you could build houses with her cooking, something to which I relate. I don't believe you need to be a fan of her music to read the book (although why wouldn't you be? 'Mandinka' anyone?!).
It is the story of a youth spent in a tough '70s Ireland, "making it" and hating it in the music business, and just keeping going in the face of a lot of adversity. (Also, look out for the insane chapter about her meeting with Prince). Lots has been written about her so it's good to hear her story in her own voice. 
 
You Are Beautiful And You Are Alone by Jennifer Otter Bickerdike
Add yourself to the waiting list for this one! Nico is maybe best known as the "chanteuse" on the first Velvet Underground album which is somewhat irritating, since her own solo albums – composed herself on a harmonium – are extraordinary.
This book aims to demystify Nico… a bit of a tall order for someone so innately unknowable, but reading about her childhood in WWII-era Berlin, her strange path to becoming a fashion model, film actress, and Warhol Factory muse, and then beyond her solo "heyday" to her drug-addled life on the road in the '80s is fascinating.
Iggy Pop speaks generously about her, and the chapters about her life in Manchester in the 80s – lunchtime pints and games of snooker, filling in The Times crossword, hating Coronation Street – are my favourite of all.  
 
Kiss of the Spider Woman by Manuel Puig
My current read! Reads more like a playscript, Puig playing with form. Two cellmates in a Buenos Aires prison pass the time by recounting their favourite films, in the process revealing more about each other than they intended. 
---
Angie
The Iron Man and The Iron Woman, both by Ted Hughes
Mexican Gothic by Silvia Moreno-Garcia
Girl In The Dark by Anna Lyndsey
Madame Burova by Ruth Hogan
The Imaginary by A F Harrold, with illustrations by Emily Gravett
Mort by Terry Pratchett
All highly recommended!
---
Keith
The Pursuit of Love by Nancy Mitford 

As the BBC adaptation was getting such good reviews, I decided to give Nancy Mitford's The Pursuit of Love a go.  
 
Here, in the first book of a trilogy, Mitford tells the story of Linda Radlett's romances from the perspective of her cousin, Fanny Logan. The Radletts are an upper-class English family, and both Linda and Fanny are teens coming of age during the inter-war period. Linda's first love is a Conservative banker, her second is a communist idealist, and her third is a French baron / resistance fighter.  
 
Though filled with comic characters – Uncle Matthew, who greets the day by cracking whips and organises child hunts on his property; Lord Merlin, whose house is populated with items of fine art, dyed pigeons, and bejewelled dogs – the novel also features moments of sadness and tragedy, as Linda tries to avoid becoming the new "Bolter" of the family, while also pursuing partners who might be able to meet her romantic ideals. 
(BTW, have since watched the BBC version – good stuff!)
My Name is Lucy Barton by Elizabeth Strout 
The last time we were invited to share our recent reads with you, I also wrote about one of Strout's books. That time it was Abide with Me (which I liked a lot), this time it's My Name is Lucy Barton, and… Yep! I liked this one a lot, too!
I'm now three books into Strout's back catalogue (I started with Olive Kitteridge, my favourite so far), and I fully expect to have read all of her books by the end of the year – so, yeah: I'm obsessed! 
In My Name is Lucy Barton, the eponymous character writes about a time she was hospitalised by a mysterious illness, and was paid an unexpected visit by her mother. Now a  successful novelist and New York resident, Lucy's beginnings were much less glamorous as her difficult, rural childhood was spent living in poverty with her mother and war-damaged father.  
While doctors try to diagnose her illness, Lucy and her mother talk about the past, and Lucy describes some of her life's defining moments; moments that have shaped her life and shaped her career as a novelist.