The Summer is upon us, if the rain is ignored that is, and with summer comes a whole host of sports to be played and enjoyed. While some of the sporting events that have happened already may have not gone the way we had hoped, there are other events still to be celebrated. The Olympics start on 23 July, the Paralympics on 24 August and there are a wide variety of local activities taking place too.
The team at Kenilworth Library have written about their favourite sports for our blog today and highlight some of the key moments of the summer (and beyond) to watch out for!
---
Sports and Wellbeing
Movement and exercise are well-known ways to increase endorphins and boost serotonin. The summer months are a fantastic way to get some fresh air, exercise, and lift your mood through the enjoyment of sports in some (usually) nice weather. Whether playing or watching, there is a sport for everyone.
Sports England recently released data on the 'impact the lockdowns, shielding and the complex emotions sparked by the coronavirus (Covid-19) pandemic have had on people's ability and motivation to keep moving, or to move more'. The 'Join The Movement' campaign website has tips, advice and guidance for everyone to keep or get active.
Sports In Mind, who actively work to increase wellbeing through sport, state that 'being active not only gives us a sense of achievement, is enjoyable and fun, but it boosts the chemicals in our brain that help put us in a good mood.'
It is important to remember that to benefit from a sport, you do not need to be the one actively taking part. The experience of a crowd or the unity of supporting a team can also benefit mental health.
There may be some query into how sports and exercise relate to reading and books but there are increasing levels of sports books on offer. Some may help you understand a sport you have never interacted with before, others may give you the motivation to start your journey into a brand-new hobby, or help you learn more about the athletes and sports people you see in the news. Others may explore the history of sports or give insight into how someone took up a sport, following their journey. There are lots of choose from – we've mentioned a few below but let us know which sports books you've been enjoying too.
---
Wellbeing Sport Books
We are very fortunate to have an extensive selection of titles that cover the topic of wellbeing. These are some of our favourites:
In 'Jog On', Bella explains with hilarious and unfiltered honesty how she used running to battle crippling anxiety and depression, without having to sacrifice her main loves: booze, cigarettes and ice cream.
With the help of a supporting cast of doctors, psychologists, sportspeople and friends, she shares a wealth of inspirational stories, research and tips that show how exercise often can be the best medicine. This funny, moving and motivational book will encourage you to say 'jog on' to your problems and get your life back on track – no matter how small and scary those first steps may be.
Aimed at both novices and those who want to improve their technique, 'Swim For Life' is a practical, fully illustrated handbook that deals with all aspects of swimming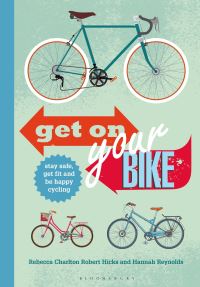 Get On Your Bike by Rebecca Charlton, Robert Hicks & Hannah Reynolds
This title shows you how to choose the right bike, what to wear, how to cycle safely so that you will feel confident making cycling part of your everyday life and how to keep your bike going.
But as well as this, you will learn how to use the bike as a fitness and wellness tool – to make you slimmer, fitter, healthier and altogether happier.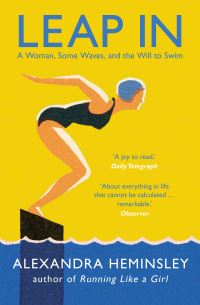 Leap In by Alexandra Heminsley
Alexandra Heminsley thought she could swim. She really did. It may have been because she could run. It may have been because she wanted to swim; or perhaps because she only ever did ten minutes of breaststroke at a time. But, as she learned one day while flailing around in the sea, she really couldn't.
Believing that a life lived fully isn't one with the most money earned, the most stuff bought or the most races won, but one with the most experiences, experienced the most fully, she decided to conquer her fear of the water. From the ignominy of getting into a wetsuit to the triumph of swimming to Ithaca, Alexandra learned to appreciate her body and still her mind in becoming a swimmer. As it turns out, the water is never as frightening once you're in, and really, everything is better when you remember to exhale.
---
Swimming
With the Olympics expected to start in Tokyo on 23 July, there are 26 debut swimmers with Team GB this summer. According to British Swimming, the GB swimming team have won a total of 71 medals at the Olympic Games – 16 gold, 27 silver and 28 bronze. Following this success rate, and with several new squad members competing this summer, swimming is looking to be one of the most exciting areas to watch at the 2021 Tokyo games.
In Britain, swimming has always been considered one of the country's most popular sports, with estimates showing that 4.7 million people swim twice or more every month. The health benefits of swimming are countless. Research shows that by swimming regularly people have reduced the risk of heart disease, stroke and type 2 diabetes. These benefits are reaped from swimming a minimum of just 30 minutes a week.
The benefits of reading are also considered to be as beneficial as a regular physical activity- so let's consider curling up with a book as a perfect workout!
Reading for 30 minutes has shown to have many benefits. Research has shown that adults who read books live almost two years longer than non-readers. The benefits of reading include: boosting brainpower, reducing the risk of Alzheimer's and reducing stress.
In Kenilworth Library, we have a collection of both non-fiction and fiction books on a wide variety of topics including swimming! Keep scrolling down to find book recommendations on many sporting topics that you'll find on our shelves at Kenilworth Library and other Warwickshire Libraries.
Reading recommendations:
The Shark Club by Ann Kid Taylor
---
The Wimbledon Championships
Think of the Wimbledon Championships, held in London annually during the first two weeks of July and wonderful images of strawberries and cream, Pimms and, of course, the tennis may spring to mind. Although this year's Championship concluded on Sunday, the tennis buzz is still there.
There is a long history of links between tennis and Warwickshire. You can find all about the history of the sport on the Our Warwickshire website. Find out about tennis in Leamington and why it was banned in Atherstone. You can also view some fantastic vintage photographs and discover the people who popularised the sport.
The Wimbledon Championships began in 1877, are held at the All England Club in Wimbledon and is one of four Grand Slam tournaments (the other three are held in Australia, France and America). Wimbledon is the only tournament still played on grass. Wimbledon is traditionally a strict all white dress code for competitors and has royal patronage and finishes with Ladies and Gentlemen's single finals matches at the end of the fortnight. Double final matches are also held for men, women and mixed doubles.
Due to the inclement weather in Britain, the Centre Court was fitted with a retractable roof in 2009 to make up for time lost.
There have been a few British players who have enjoyed success at the Championships, notably Virginia Wade in 1976 and Tim Henman who was the first male player from the United Kingdom since Roger Taylor in the 1970s to reach the semi-finals. Recently, Andy Murray won the Championships in 2013 and 2016. There have been more British players coming through to the Championships in recent years too.
Anyone can play tennis, it is a game that can be played with either two or four players, singles or doubles matches. There are thousands of tennis clubs throughout the country and cities. You need a racket and a ball to play and it can also be played in parks and gardens, by children and adults alike.
More and more, it is possible to see people playing during the colder months of the year as access for the public in parks is allowed. This is a great sport for getting out and about in the fresh air, is a great way to exercise, meet friends socially, lifting your mood at the end of the working day and relieving any stress.
Warwickshire Libraries have a wide range of books available on the library catalogue from learning how to play to biographies of the great players.
---
Cycling
July sees the biggest event in the calendar for cycling. Not only is it cycling's biggest event, but it is also the world's biggest sporting event, with 200 cyclists racing over 2000 miles in 23 days. 2021 will see the 108th Tour de France.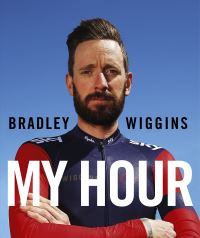 We have had and still have many British cyclists who have competed in The Tour – Chris Broadman in the 1990s and more recently we had our first win with Bradley Wiggins in 2012. Mark Cavendish is a world-renowned sprinter who has made a spectacular comeback after 5 years of not winning a stage at The Tour and has won three stages in this year's race, taking him to 33 stage wins (as of 7 July) – only one stage to equalise with the great Eddie Merckx. This year sees the entry of Tao Geoghegan-Hart. Already having won the Giro D'Italia in 2020, this youngster form Hackney is certainly someone to watch in the future.
Many books have been written about The Tour and Warwickshire Libraries has a good selection in the catalogue. The first I read that gave me an insight to how the race is organised and trained for was 'My Time' by Bradley Wiggins. The book left me with far more knowledge of this great race. My second book was Mark Cavendish's 'At Speed', as I wanted to read how a sprinter views the race rather than a Grand Contender. Both books were very enlightening to life as a professional cyclist. Ben O'Conner has also made a fabulous debut into the 2021 Tour, having ridden a fabulous stage 9. He put himself in 2nd place, making this year's race interesting viewing, and who will we see on the podium in Paris?
Warwickshire has been very lucky to host stages of The Women's Tour. This year, Atherstone will be hosting a stage -for the first time a Time Trial will be held on the 6th October. In other years, the Women's Tour has visited many of Warwickshire's great landmarks – maybe you saw it?
Cycling has many advantages for health, both physical and mental health. Warwickshire is fortunate to have many varied cycling clubs, which can be found on the British Cycling website. There is also a ride for beginners across the country run by locals to each area.
---
Cricket
The start of summer also means the start of the cricket season for villages and towns across the country, and we have also seen the return of spectators at grounds bringing life back to the game. Groundsmen are carefully tending to the square, the over-40's team is limbering up for their mid-week game, and everywhere you look across the globe, children are having mini-games whilst their parents socialise.
This summer is the best time to get into cricket with a new format being announced called 'The Hundred'. These short, fast paced, action-packed games are great for all the family and with it being shown on the BBC and at grounds across the country – there are plenty of chances to experience your first summer of cricket!
Local cricket is also a fantastic way to spend a sunny afternoon, a refreshing drink in one hand, the sun gleaming down and the opposition getting hit around the ground by the local team. The basic rules are easy enough to follow, and the excitement of the chase as the game closes in is unmatched. The English and Welsh Cricket Board are welcoming of all members and there is lots of support for new players. The current focus is in getting more women and girls into the sport.
Cricket aids both mental and physical health due to the exercise and fresh air. The team element of the game adds not only support in the ups and downs of the game but creates an off-pitch community throughout the summer. Cricket is an excellent way to overcome loneliness as the game does not finish when the last ball is bowled or the last wicket falls, but instead transforms into a social occasion filled with chat about the game and the week ahead. This team sport of individuals is a fantastic spectator sport and a social and a slower paced game that everyone could play.
Our eMagazine collection includes 'Universal's Summer Cricket Guide' and we hold a great amount of both biographies of cricketers past and present as well as more generic titles about games and outlandish matches. Whether you're looking to reminisce about school days, learn what an LBW is, or get to know the famous faces of cricket, Warwickshire Libraries have something for you.
---
Biographies Recommendations
With your library card you can access: Oxford Dictionary of National Biography, Times Digital Archive, and Biography.com. These are great resources for quick facts or more in-depth research. Start exploring all of these resources from our eInformation page.
Our library catalogue has a wide range of sporting biographies too. Here are just a few names you might recognise!
Seventy- Seven: My Road to Wimbledon Glory by Andy Murray
The Extraordinary Life of Serena Williams written by Shelina Janmohamed and illustrated by Ashley Evans
What a Flanker by James Haskell
---
eNewspapers
As well as lots of books, you'll find other resources in our collections to keep you informed about all things sports-related. Warwickshire Libraries has a subscription to PressReader, a website and app that gives its users access to a multitude of both magazines and newspapers. All you need to do is sign in every 30 days and you will be able to keep up to date with all the latest news right from home. This can also be accessed from our library computers. With so much sport happening every day, you can get all the latest fixtures and results from PressReader, a must have this summer!
You can also find sporting eMagazines via the Libby app. Whether you're a football fan, tennis, fishing or other sports, have a browse through the 3,000 titles on offer.
Find out how to start exploring both PressReader and the Libby app here.
eMagazines
As well as 'Universal's Summer Cricket Guide', Libby, our online magazine subscription service has all your sporting magazines covered. The magazine collections cover publications from across the world.
Here are a few of our favourites!
---
A Reluctant Golfer
Before starting to explain the health benefits of playing golf, I just want to say I was one of those who thought golf wasn't for me – it is expensive and why would I spend considerable amount of my time wandering around a green?
Yes, I agree the cost of starting golf is expensive, but this is outweighed by the long-term benefits.
Having reached a certain age and after making a commitment to a relative due to health reasons, I wish I'd taken golf up earlier (Important point to note: golf is not just for people of certain age, everyone can benefit from it!)
Playing golf means spending a lot of time outdoors and this is beneficial for your health in various ways. Fresh air can help everything from your digestive health to your blood pressure and heart rate. It can help lower the risk of various chronic health diseases, including obesity.
You can boost your Vitamin D from the sun – though do remember to put on sun cream to avoid over exposure and always have a head covering and water.
Being outdoor helps to reduce anxiety, improve concentration and boost self-esteem. This year's Mental Health Awareness theme was 'Nature', emphasising that being outdoors can help support wellbeing and health in many ways. You can find more tips for getting out in to nature on the Mental Health Foundation website, including this report.
Golfing is a social activity as you will be interacting with others, having conversations and sharing interests which boost your self-esteem, social skills and overall mental wellbeing. A bit of competition either with yourself, the course or others, helps you to challenge yourself and improve your skills
Golf can also help to improve your concentration and boost your brain because it teaches accuracy, focus and concentration and can improve hand and eye coordination. It is also good for your heart as walking encourages your heart to work more efficiently, helping to build its muscles.
It can relieve your stress thus improving your mental health, because you can channel your tension and stress into something productive
Did you know the average length of a full 18-hole course is around 3.5 miles, so it burns calories and to top it up it is a low-risk injury sport.
A round of golf allows you to exercise, get some fresh air and natural light and it helps to getting a good sleep.
---
We hope you've enjoyed our whistle stop tour through some of the great sport we can experience this summer. You can also find information about healthy living and how exercise contributes to wellness on the NHS website.
Whatever sports you're enjoying this summer, go well, play well, stay well!
All at Kenilworth Library