What are you reading this summer? Do you have your book list all planned out or are you looking for ideas? Will you be downloading eBooks or eAudio titles to your device or browsing our shelves for the latest paperbacks (or hardbacks if you don't mind the weight!).
Whatever your reading plans this summer, we are here for you. Pop into our libraries if you're in need of some reading suggestions – let us know what you've enjoyed previously and we'll find you something similar or ask for a random selection and perhaps you'll find a new favourite author.
You can join in with the #SummerOfReading – a nationwide activity co-ordinated by The Reading Agency that aims to provide a whole summer of activities aimed at readers young and old. You can find out more about it here.
To get things started, here are some summer suggestions for all ages, available either in our libraries or on BorrowBox and their accompanying blurbs.
---
Adult Fiction
Mrs Death Misses Death by Salena Godden
Mrs Death has had enough. She is exhausted from spending eternity doing her job and now she seeks someone to unburden her conscience to. Wolf Willeford, a troubled young writer, is well acquainted with death, but until now hadn't met Death in person – a black, working-class woman who shape-shifts and does her work unseen.
Enthralled by her stories, Wolf becomes Mrs Death's scribe, and begins to write her memoirs. Using their desk as a vessel and conduit, Wolf travels across time and place with Mrs Death to witness deaths of past and present and discuss what the future holds for humanity. As the two reflect on the losses they have experienced – or, in the case of Mrs Death, facilitated – their friendship grows into a surprising affirmation of hope, resilience and love. All the while, despite her world-weariness, Death must continue to hold humans' fates in her hands, appearing in our lives when we least expect her . . .
Available as a Read/Listen Now, No Waiting title, available as both an Ebook and on eAudio from BorrowBox during July and August.
The One Hundred Years of Lenni and Margot by Marianne Cronin
Life is short. No-one knows that better than seventeen-year-old Lenni living on the terminal ward. But as she is about to learn, it's not only what you make of life that matters, but who you share it with. Dodging doctor's orders, she joins an art class where she bumps into fellow patient Margot, a rebel-hearted eight-three-year-old from the next ward. Their bond is instant as they realize that together they have lived an astonishing one hundred years.
To celebrate their shared century, they decide to paint their life stories: of growing old and staying young, of giving joy, of receiving kindness, of losing love, of finding the person who is everything.
As their extraordinary friendship deepens, it becomes vividly clear that life is not done with Lenni and Margot yet.
Girl A by Abigail Dean
Lex Gracie doesn't want to think about her family. She doesn't want to think about growing up in her parents' House of Horrors. And she doesn't want to think about her identity as Girl A: the girl who escaped, the eldest sister who freed her older brother and four younger siblings. It's been easy enough to avoid her parents–her father never made it out of the House of Horrors he created, and her mother spent the rest of her life behind bars. But when her mother dies in prison and leaves Lex and her siblings the family home, she can't run from her past any longer.
Together with her sister, Evie, Lex intends to turn the House of Horrors into a force for good. But first she must come to terms with her siblings–and with the childhood they shared.
A Prince and a Spy by Rory Clements
Sweden, 1942 – Two old friends meet. They are cousins. One is Prince George, Duke of Kent, brother of the King of England. The other is Prince Philipp von Hesse, a committed Nazi and close friend of Adolf Hitler.
Days later, the Prince George is killed in a plane crash in the north of Scotland. The official story is that it was an accident – but not everyone is convinced.
There is even a suggestion that the Duke's plane was sabotaged, but with no evidence, Cambridge spy Tom Wilde is sent north to discover the truth . . .
The Sanatorium by Sarah Pearse
An imposing, isolated hotel, high up in the Swiss Alps, is the last place Elin Warner wants to be. But she's taken time off from her job as a detective, so when she receives an invitation out of the blue to celebrate her estranged brother's recent engagement, she has no choice but to accept.
Arriving in the midst of a threatening storm, Elin immediately feels on edge. Though it's beautiful, something about the hotel, recently converted from an abandoned sanatorium, makes her nervous – as does her brother, Isaac.
And when they wake the following morning to discover his fiancée Laure has vanished without a trace, Elin's unease grows. With the storm cutting off access to and from the hotel, the longer Laure stays missing, the more the remaining guests start to panic.
But no-one has realized yet that another woman has gone missing. And she's the only one who could have warned them just how much danger they're all in . . .
---
Adult Non-Fiction
Fathoms: The World of the Whale by Rebecca Giggs
When Rebecca Giggs encountered a humpback whale stranded on her local beach in Australia, she began to wonder how the lives of whales might shed light on the condition of our seas. How do whales experience environmental change? Has our connection to these fabled animals been transformed by technology? What future awaits us, and them? And what does it mean to write about nature in the midst of an ecological crisis?
In 'Fathoms: The World in the Whale', Giggs blends natural history, philosophy, and science to explore these questions with clarity and hope. In lively, inventive prose, she introduces us to whales so rare they have never been named; she tells us of the astonishing variety found in whale sounds, and of whale 'pop' songs that sweep across hemispheres. She takes us into the deeps to discover that one whale's death can spark a great flourishing of creatures. We travel to Japan to board whaling ships, examine the uncanny charisma of these magnificent mammals, and confront the plastic pollution now pervading their underwater environment.
In Sight of Yellow Mountain by Philip Judge
First, a dream of escaping the city … and then a century-old cottage to match the dream. Moving to a small village in the heart of the Irish countryside was the start of a new life for Philip Judge – the beginning of life in sight of Yellow Mountain.
Philip describes the season-by-season charms and frustrations that he, his Beloved, and eventually, his two growing boys experience as they adapt to life in the countryside.
There are highs and lows. Wellies are bought. Vegetable patches cultivated. Lambs are born and calves die. There is health and happiness, illness and sadness, and there is weather – always weather. And yet the seasons turn and Yellow Mountain looks on. The city slicker fails miserably at Name That Grain! and makes many faux pas along the way, but ultimately, this is the story of one man and his family falling in love with the Irish countryside – and, in doing so, finding home.
A Trip of One's Own by Kate Wills
Kate Wills wasn't expecting to be divorced after less than a year of marriage. She hadn't anticipated restarting a life that had, for the last 12 years with her partner, seemed so stable. Luckily, her job as a travel journalist offered her the perfect opportunity to escape from it all. But this time, her jet-setting felt different. Kate felt more alone, particularly against a backdrop of never-ending hen dos, weddings and baby showers.
So she began to search history for female travellers to inspire her. From a 4th-century nun to a globe-girdling cyclist, Kate discovers that throughout history, there have been astonishing women who've broken free from more burdensome expectations, clearing the path for us to do the same.
Everything Is Under Control by Phyllis Grant
Everything Is Under Control is a memoir about appetite – as it comes, goes, and refocuses its object of desire. With sparse, affecting prose, and an unsparing eye toward her, and her environment's, darkest corners, Grant's story follows the sometimes smooth, sometimes jagged, always revealing contours of her life: from her days as a dancer struggling to find her place at Juilliard, to her experiences in and out of four-star kitchens in New York City, to falling in love with her future husband and leaving for California where her children are born.
All the while, a sense of longing roils in each stage as she moves through the headspace of a young woman longing to be sustained by a city, to a mother now sustaining a family herself.
Evocative and deeply moving, Everything Is Under Control is unputdownable, written as a series of vignettes about adulthood, motherhood, self-discovery and a life in the kitchen.
Mind Games by Neville Southall
The most difficult position in football? Being a goalkeeper. That's what they say, right? You must be mad to stand between those posts and bat away shots and crosses all game long.
Neville Southall should know. He was the goalkeeper for one of the best teams of the 1980s and became an icon of the game during his 20-year career between the sticks. But what did it take to prepare himself mentally for the difficulties of the position? How did he dig so deep on the biggest occasions and in the highest-pressured moments? What scars were left at the end of his long career – a tenure that saw the highs of winning trophies, but also the lows of losing games, making mistakes and feeling the full weight of club and country on your shoulders. And how has he used his post-playing career to campaign for a better future for the next generation?
In this unique book, one of football's greatest cult players reflects on the travails of the modern game, how some of society's problems are reflected within it and draws upon his own experience to tackle one of its final remaining taboos: mental health. On fear of failure, confidence, sexuality and homophobia, suicide, social media and many other talking points – Neville doesn't hold back on the biggest subjects and gets stuck in to some of the most important topics surrounding the beautiful game.
---
Young Adult
The Summer of No Regrets by Kate Mallinder
After their exams, four sixteen-year-old best friends pledge to live a summer regret-free, taking risks however much it scares them. Sasha agrees to spend the holiday in Geneva with the father she hasn't seen for six years, but is not expecting his new girlfriend, or the boy in the cafe. Shy homebody Hetal decides to go to science camp, and has to find a new competitive spirit. After Nell lost her arm in an accident her mother is scared to let her out of the house – so to do what she wants she will have to lie to her parents. Foster Cam goes to look for her birth father. What will she find?
As all these choices become difficult, even dangerous, they will need each other for the strength to face the future.
Sisters of the Snake by Sarena Nanua & Sasha Nanua (eBook)
Princess Rani longs for a chance to escape her gilded cage and prove herself. Ria is a street urchin, stealing just to keep herself alive.
When these two lives collide, everything turns on its head: because Ria and Rani, orphan and royal, are unmistakably identical.
A deal is struck to switch places—but danger lurks in both worlds, and to save their home, thief and princess must work together. Or watch it all fall into ruin.
Deadly magic, hidden temples, and dark prophecies: Sisters of the Snake is an action-packed, immersive fantasy that will thrill fans of The Wrath & the Dawn and The Tiger at Midnight.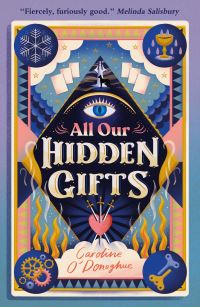 All Our Hidden Gifts – Caroline O'Donoghue
Maeve Chambers doesn't have much going for her. Not only does she feel like the sole idiot in a family of geniuses, she managed to drive away her best friend Lily a year ago. But when she finds a pack of dusty old tarot cards at school, and begins to give scarily accurate readings to the girls in her class, she realises she's found her gift at last.
Things are looking up – until she discovers a strange card in the deck that definitely shouldn't be there. And two days after she convinces her ex-best friend to have a reading, Lily disappears.
Can Maeve, her new friend Fiona and Lily's brother Roe find her? And will their special talents be enough to bring Lily back, before she's gone for good?
The Bright & The Pale by Jessica Rubinkowski (eBook)
Seventeen-year-old Valeria is one of the only survivors of the freeze, a dark magical hold Knnot Mountain unleashed on her village. Everyone, including her family, is trapped in an unbreakable sheet of ice. Ever since, she's been on the run from the czar, who has set out to imprison anyone who managed to escape. Valeria finds refuge with the Thieves Guild, doing odd jobs with her best friend, Alik, the only piece of home she has left. That is, until he is brutally murdered.
A year later, she discovers Alik is alive and being held captive. To buy his freedom, she must lead a group of cutthroats and thieves on a perilous expedition to the very mountain that claimed her family. Only something sinister slumbers in the heart of Knnot. And it has waited years for release.
---
Children's Fiction
Jungle Drop by Abi Elphinstone
Eleven-year-old twins, Fox and Fibber, have been rivals for as long as they can remember. Only one of them will inherit the family fortune and so a race is afoot to save the dwindling Petty-Squabble empire and win the love of their parents. But when the twins are whisked off to Jungledrop, a magical Unmapped Kingdom in charge of conjuring our world's weather, things get wildly out of hand.
An evil harpy called Morg is on the loose. And if she finds the long-lost Forever Fern before the twins, both Jungledrop and our world will crumble. Suddenly, Fox and Fibber find themselves on an incredible adventure in a glow-in-the-dark rainforest full of golden panthers, gobblequick trees and enchanted temples.
But, with the fate of two worlds in their hands, will the twins be able to work together for once to defeat Morg and her dark magic?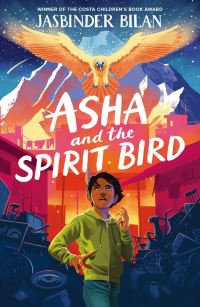 Asha & The Spirit Bird by Jasbinder Bilan
In an unforgettable adventure set in contemporary India, Asha is guided by a majestic bird which she believes to be the spirit of her grandmother. Together with her best friend, Jeevan, she embarks on a journey across the Himalayas to find her missing father and save her home.
Winner of the 2019 Costa Children's Book Award.
When The Sky Falls by Phil Earle
It's 1941, and Joseph has been packed off to stay with Mrs F, a gruff woman with no great fondness for children. To Joseph's amazement, she owns the rundown city zoo where Joseph meets Adonis, a huge silverback gorilla.
Adonis is ferociously strong and dangerous, but Joseph finds he has an affinity with the lonely beast. But when the bombs begin to fall, it is up to Joseph to guard Adonis's cage should it be damaged by a blast. Will Joseph be ready to pull the trigger if it comes to it?
A Girl Called Joy by Jenny Valentine
Meet ten-year-old Joy Applebloom, a girl with a knack for finding the silver lining in even the darkest of rainclouds.
After years of travelling the world with her parents and older sister, Claude (Claude rhymes with bored, which is just about right), Joy and her family move to suburbia – back to school, back to her grumpy, rule-obsessed grandad and back to normality.
Joy soon finds her usual irrepressible positivity and zest for life waning, but when the powers that be threaten to pull down a mighty oak tree, Joy decides to fight back, and realizes that not all magic requires wands and spells, and perhaps the most important sort of magic is the power, resilience and courage that was there all along . . .
---
We hope that's given you some ideas to get your own #SummerOfReading started. You can visit our libraries for more reading suggestions and, for younger members of the family, there's also the 2021 Summer Reading Challenge – Wild World Heroes. Visit your library to sign up for free and explore the activities and reading suggestions (including The Book Sorter) online.
Let us know if you discover any great reads this summer – we love to hear about what you've been reading too!
Happy reading!