Did you know that June is Candy Month? Now, obviously, we enjoy a sweet treat throughout the year but it did get us thinking about books and reading and chocolate and cakes and biscuits and…. well, now we're hungry so while we go and make a cuppa and find something to snack on, here's a few candy-related reading recommendations for you!
---
The Chocolate Box by Agatha Christie
What better place to start than with a classic murder mystery? This Hercule Poirot short story is an ideal listen from BorrowBox during Candy Month.
Sitting in front of a fire, Hastings listens as Poirot recounts his greatest failure. When a wealthy French deputy dies, everyone believes it is from natural causes. Poirot is on vacation from the Belgian police when a young lady comes to him convinced the man was poisoned. She creates a guise for him to enter the house as a journalist to investigate…
Will Poirot discover who the murderer is? (well, yes but the fun is in how he does it!)
Like Water For Chocolate by Laura Esquivel
This was a bestselling novel in both America and Mexico for two years and it's easy to see why. It relates the bizarre history of the all-female De La Garza family.
Tita, the youngest daughter of the house, has been forbidden to marry, condemned by Mexican tradition to look after her mother until she dies. But Tita falls in love with Pedro, and he is seduced by the magical food she cooks. In desperation Pedro marries her sister Rosaura so that he can stay close to her.
For the next twenty-two years Tita and Pedro are forced to circle each other in unconsummated passion. Only a freakish chain of tragedies, bad luck and fate finally reunite them against all the odds.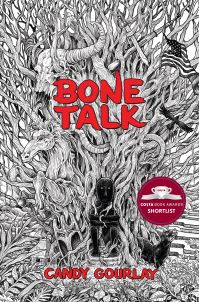 Bone Talk by Candy Gourlay
Okay, not strictly a novel about candy but a fantastic author called Candy so you can see why we'd want to include it. Candy Gourlay is a best-selling and award-winning author whose books have been shortlisted for the Carnegie Prize. In Bone Talk, we meet Samkad, who lives in a tribe deep in the Philippine jungle at the end of the nineteenth century. Samkad has never encountered anyone from outside his own tribe before. He's about to become a man, and while he's desperate to grow up, he's worried that this will take him away from his best friend, Little Luki.
However, Samkad's world is about to change utterly. A strange man with white skin arrives in his village, and Samkad discovers the brother he never knew he had.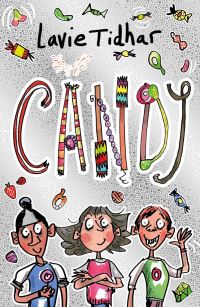 Candy by Lavie Tidhar
In a city where all chocolate and sweets have been banned (quite possibly our worst nightmare!), Nelle Faulkner is a 12-year-old private detective looking for her next client.
When notorious candy gangster Eddie de Menthe walks into her office (her dad's garden shed) and asks her to find a missing teddy bear, Nelle takes the case. But as soon as the teddy turns up, Eddie himself goes missing.
Sweet Tooth by Ian McEwan
The year is 1972. The Cold War is far from over. Britain is being torn apart by industrial unrest and terrorism. Serena Frome, in her final year at Cambridge, is being groomed for MI5.
Serena is sent on a secret mission – Operation Sweet Tooth – which brings her into the world of Tom Haley, a promising young writer. First she loves his stories, then she begins to love the man. Can she maintain the fiction of her undercover life? And who is inventing whom? To answer these questions, Serena must abandon the first rule of espionage – trust no one.
Gingerbread Cookie Murder by Joanna Fluke
Yes, we know that this one is technically a Christmas book but why not celebrate throughout the year! This collection of novellas contains three festive mystery stories, each with a sweet/candy theme.
In "Gingerbread Cookie Murder" by Joanne Fluke, Hannah Swensen finds her neighbor Ernie Kusak with his head bashed in and sprawled on the floor of his condo next to an upended box of Hannah's Gingerbread Cookies but who could have done it?
In "The Dangers Of Gingerbread Cookies" by Laura Levine, Jaine Austen has been enlisted to help with her parents' retirement community's play The Gingerbread Cookie That Saved Christmas. Playboy Dr. Preston McCay is playing the role of the gingerbread cookie when he "accidentally" falls to his death during the final act. Now Jaine must figure out if one of the doctor's jealous lovers was capable of murder.
In "Gingerbread Cookies And Gunshots" by Leslie Meier, Lucy Stone discovers the body of Rick Juergens, whose five-year-old son Nemo disappeared and senses foul play. Crumbs from a gingerbread cookie Lucy gave to Nemo are found in the back seat of Rick's car. With the hours quickly ticking till Christmas, Lucy races against the clock to find a killer before he strikes again.
Yummy recipes are also included!
---
Speaking of recipes, you can also find candy treats to make at home by exploring our eMagazine collection via the Libby app. You'll find BBC Good Food Magazine, Delicious and a whole host of special baking and cookery publications to inspire you. The latest editions (June 2021) happen to feature some of our favourite sweet treats – tiramisu and cake!
If we've not whet your appetite with these reading suggestions, you could also have a quick read of our blogs from last year when we matched books and their genres to biscuits and explored our BorrowBox and library collections to find books that looked like sweets and chocolate bars!
Let us know your reading recommendations for Candy Month (and don't forget to brush your teeth!)