Loneliness Awareness Week 2021 takes places between 14th June and 18th June. Hosted by Marmalade Trust, it's a campaign that raises awareness of loneliness and gets people talking about it. While everyone can lonely from time to time, loneliness can have a major impact on health and wellbeing.
For our blog today, staff at Kenilworth Library have collaborated on this post of ideas to tackle loneliness, resources to explore if loneliness impacts you and they look at how books and the reading community can help manage feelings of loneliness.
---
Books are a great way to overcome loneliness. Loneliness is often thought of as a physical state of being – that is to be alone in a space or in life. However, this is not always the case, and it is often an overwhelming feeling people can experience even when surrounded by others. Even though reading itself can be a solitary activity (though it doesn't have to be – see later for more), books and stories can also be a uniting force and bring people together.
Here are a few ideas for ways to come together over a good (or bad) book.
---
Reading Groups
Reading groups are a great way to meet new people in a situation where the ice is already broken. You could join a well-established group or start one yourself for your local community.
They are a great way to tackle loneliness as there is a productive element – the reading of the book – and a social element – the discussion. These groups are a great way to have regular and interactive conversations with likeminded people, introducing you to new people and ideas and beginning a network of connections. Reading is also a valuable socialising influence.
Reading groups are a proven method to tackle loneliness as Louie Freeman-Basset has shown with her Generation Book Club. The last year in particular has increased loneliness for many and connecting has been more challenging than ever. Louie was in this situation and noticed the benefits that discussing a book with friends and family had on her mental health. Thus, the book club was created to reach out to other like-minded people, and it has now expanded into a national project.
Warwickshire Libraries has a well-established Reading Group Collection so if you do set up a group, we have the physical books for you. You can find out how the collection works and tips for starting your own group here. We also have a Virtual Reading Group that currently meets monthly to discuss a book that can be downloaded from our BorrowBox collection. Each month, one of our 'Read/Listen Now, No Waiting' titles is picked for discussion so that all the members of the group can access the same title and join in discussions. The group welcomes new members too and details about the next meeting can be found here.
You'll also find lots of information and reading suggestions on the Reading Groups For Everyone website. Run by The Reading Agency, you can find book reviews, reading offers and events.
---
Book Recommendations
Reading may often be an activity that you undertake by yourself but that doesn't mean you're alone. If you find the right book, the characters portrayed on the pages can burst into life and take you into another world. For the time you're in their world, they can become companions and seeing the world through their eyes can entertain, amuse and inspire. There can be highs and lows, emotional journeys and insights and all without leaving your sofa.
Here are a few reading recommendations:
Doggerland by Ben Smith
Doggerland is a superbly gripping debut novel about loneliness and hope, nature and survival – set on an off-shore windfarm in the not-so-distant future. In the North Sea, far from what remains of the coastline, a wind farm stretches for thousands of acres. The Boy, who is no longer really a boy, and the Old Man, whose age is unguessable, are charged with its maintenance. They carry out their never-ending work, scoured by wind and salt, as the waves roll, dragging strange shoals of flotsam through the turbine fields.
Land is only a memory. So too is the Boy's father, who worked on the turbines before him, and disappeared. The boy has been sent by the Company to take his place, but the question of where he went and why is one for which the Old Man will give no answer. As his companion dredges the sea for lost things, the Boy sifts for the truth of his missing father. Until one day, from the limitless water, a plan for escape emerges…
Detransition, Baby by Torrey Peters
Reese nearly had it all: a loving relationship with Amy, an apartment in New York, a job she didn't hate. She'd scraped together a life previous generations of trans women could only dream of; the only thing missing was a child. Then everything fell apart and three years on Reese is still in self-destruct mode, avoiding her loneliness by sleeping with married men.
When her ex calls to ask if she wants to be a mother, Reese finds herself intrigued. After being attacked in the street, Amy de-transitioned to become Ames, changed jobs and, thinking he was infertile, started an affair with his boss Katrina. Now Katrina's pregnant. Could the three of them form an unconventional family – and raise the baby together?
Ask again, Yes by Mary Beth Keane
Gillam, upstate New York: a town of ordinary, big-lawned suburban houses. The Gleesons have recently moved there and soon welcome the Stanhopes as their new neighbours. Lonely Lena Gleeson wants a friend but Anne Stanhope – cold, elegant, unstable – wants to be left alone. It's left to their children – Lena's youngest, Kate, and Anne's only child, Peter – to find their way to one another.
To form a friendship whose resilience and love will be almost broken by the fault line dividing both families, and by the terrible tragedy that will engulf them all. A tragedy whose true origins only become clear many years later.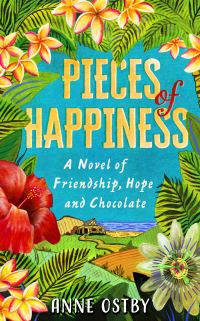 Pieces of Happiness by Anne Ostby
When recently-widowed Kat writes to her four old school girlfriends, inviting them to live with her on a cocoa plantation in the South Pacific, they swap icy pavements and TV dinners for a tropical breeze and an azure-blue ocean.
Leaving behind loneliness, dead-end jobs and marriages that have gone sour, they settle into the Women's House, surrounded by palms and cocoa trees; and locals with the puzzling habit of exploding into laughter for no discernible reason.
Each of the women has her issues to resolve, and secrets to keep. But together the friends find a new purpose, starting a business making chocolate: bittersweet, succulent pieces of happiness. As they embrace a new culture that views ageing so differently from their own, will they learn to accept and forgive: to discover the value of friendship, and a better way to live?
Dear Edward by Ann Napolitano
One summer morning, a flight takes off from New York to Los Angeles: there are 192 people aboard. When the plane suddenly crashes, twelve-year-old Edward Adler is the sole survivor.
In the aftermath, Edward struggles to make sense of his grief, sudden fame and find his place in a world without his family. But then Edward and his neighbour Shay make a startling discovery; hidden in his uncle's garage are letters from the relatives of other passengers – all addressed him.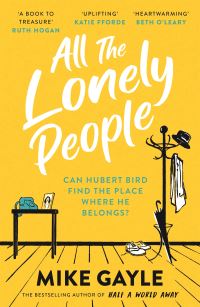 All The Lonely People by Mike Gayle
In weekly phone calls to his daughter in Australia, widower Hubert Bird paints a picture of the perfect retirement, packed with fun, friendship and fulfilment. But Hubert Bird is lying. The truth is day after day drags by without him seeing a single soul.
Until, that is, he receives some good news – good news that in one way turns out to be the worst news ever, news that will force him out again, into a world he has long since turned his back on. Now Hubert faces a seemingly impossible task: to make his real life resemble his fake life before the truth comes out.
Goodbye Vitamin by Rachel Khong
Ruth is 30 and her life is falling apart: she and her fiance are moving house, but he's moving out to live with another woman; her career is going nowhere; and then she learns that her father, a history professor beloved by his students, has Alzheimer's. At Christmas, her mother begs her to stay on and help – for a year.
'Goodbye, Vitamin' is the wry, beautifully observed story of that year, as Ruth and her friends attempt to shore up her father's career, she and her mother obsess over the ambiguous health benefits – in the absence of a cure – of dried jellyfish supplements and vitamin pills, and they all try to forge a new relationship with the brilliant, childlike, irascible, sweet old man her father has become.
---
Stress reduction
Reading helps to build self-confidence, lessens cultural isolation, builds a sense of community, and fosters increased communication skills. For more on the benefits of reading, visit The Reading Agency website for links to research about the topic.
The sense of escapism is one way to reduce stress with reading. Escapism can be achieved through the focus on something else, or the ability to lose yourself in another's trials and tribulations. The new perspective books can give us also help us contextualise and reassess our own situations. This can help reduce stress as it gives a chance to explore other people's lives, and even worlds into which to escape from reality for a short period of time. We can walk in someone else's shoes for a short while.
---
Reading Well Books/Reading For Wellbeing
Our libraries also hold the Reading Well collections. These books support understanding and management of health and wellbeing using helpful reading. They are all recommended by health experts, as well as people with lived experience of the conditions and topics covered and their relatives and carers.
Our libraries and our BorrowBox collection also have wellbeing titles that you can borrow which encourage and inspire readers to better mental and physical health. You can explore our catalogue to find titles, including our Health and Wellbeing page.
Here are a few suggestions to get you started:
A Life Less Lonely: What We Can All Do To Lead More Connected, Kinder Lives by Nick Duerden
Loneliness has reached the levels of an epidemic. From the bullied child to the new parent, from the pensioner who has outlived friends and family members to teenagers who manage their social lives through the glow of a mobile phone, it can – and does – affect anyone and everyone, irrespective of age, race or class.
What's it like when loneliness descends? How does it announce itself, and how do you recognise it? Do you discuss it, or conceal it? From where can you seek help? 'A Life Less Lonely' shares stories of loneliness and social isolation, and looks for ways in which we can help one another to future-proof ourselves against this insidious affliction.
Calm by Fearne Cotton
A simple, gentle and visual guide to finding your inner calm, featuring Fearne's hand drawn illustrations throughout. In today's always on world, for many of us it seems impossible to relax, take time-out or mute the encircling 'noise'. It is easy to feel trapped in a frenzied state of mind: we are surrounded by negative stories in the press, weighed down by pressures from school, work or family life and subject to constant scrutiny under the all-seeing eye of social media. As a result, mental health illnesses are on the rise in every age group and more of us than ever before yearn for silence, peace and calm.
As the ambassador for MIND, the UK's leading mental health charity, Fearne is passionate about helping others navigate the digital age healthily and happily.
Hygge by Marie Tourell Soderberg
Although it has no direct translation into English, the Danish concept of 'hygge' is becoming a familiar term to many people outside Scandinavia. This small book shows readers what hygge really means and how you can bring it into every aspect of your life.
The Opposite of Loneliness by Marina Keegan
An inspiring, deeply affecting posthumous collection of award-winning essays and stories from a young author who has become an icon for her generation.
The Boy, The Mole, The Fox and The Horse by Charlie Mackesy
Enter the world of Charlie's four characters and unlikely friends – the boy, the mole, the fox and the horse – discover their touching story, and their most poignant and universal life lessons.
Jog On by Bella Mackie
Divorced and struggling with long-rooted mental health problems, Bella Mackie ended her twenties in tears, scared of everything imaginable. She could barely find the strength to get off the sofa, let alone piece her life back together. Until one day she did something she hadn't done before – she pulled on a pair of trainers and went for a run.
Over the previous decade, Bella was so paralysed by her fears that exercise was the very last thing on her mind. So that first run didn't last very long. But to her surprise, she was back out there the next day. And the day after that. She began to set herself small goals – to run 5k in under 30 minutes, to walk to work every day for a week, to attempt 10 push-ups in a row. Before she knew it, her mood was lifting for the first time in years, and she had swapped hiding in her house for fresh air, unknown roads and running tracks
Walk With Your Wolf by Jonathan Hoban
When did you last take a walk? Not a stroll to the shops, or to the pub, but a walk that got you energised, stimulated your senses, allowing you to de-stress? If the answer is that you'd love to walk, but don't have the time, there really are more reasons to get outside than you might think.
When we walk we find the space to process our feelings and we begin to have the courage to be vulnerable and honest with ourselves. Walking awakens the intuition that helps us face up to our difficulties and walk alongside them, enabling us to find positive solutions to our problems. Written by a London-based therapist, 'Walk with your Wolf' is part memoir, part self-help and part reflection on the connection we must re-establish with our natural, intuitive selves if we are to live healthy, fulfilling lives.
---
Audiobooks
Audiobooks can help overcome loneliness, especially when it is only experienced during short periods of the day or at times when you are driving or home alone. They fill the silence and can bring comfort. Although they do not compare to companionship, they are a good filler when you might struggle with being alone. Audiobooks offer the same escapism that a physical book would, with the added element of another's voice to offer relaxation when words may not.
You'll find a wide variety of titles in our BorrowBox collection and Spoken Word CD sets in our libraries.
Buddy Reads
Buddy reading is another great way to tackle loneliness. It may be that you have lost connections with people or conversation has become more challenging. Buddy reading is a fabulous way to reconnect and take the strain off the conversation by giving it direction and purpose. Social media has resulted in increased isolation, without necessarily realising it; connecting through a shared book is an excellent and easy way to reconnect on a meaningful level.
If you want to learn more about buddy reading, please see our previous post here.
Review System
In January, 2021, the team at Kenilworth Library put together a review system following the library re-opening its front doors for Click and Collect. Everyone was affected by COVID-19 restrictions, and with the library only offering limited services, we spotted an opportunity to put something in place.
We devised a review slip system where we could connect with borrowers and where borrowers could connect to each other. We have found that this opened up conversations between ourselves and readers about the books they had been enjoying (or not, as the case may be), at a time where face to face interactions were limited. It is a safe way to know what books our borrowers are enjoying and gives us a wide range of recommendations to pass on to other borrowers.
---
If you are affected by any of the issues raised in this post and would like to seek help or advice, you can find information about available support and resources from the following organisations:
NHS – the NHS website and the Every Mind Matters website has advice and information on all aspects of physical and mental health.
You can also visit the Health and Wellbeing pages of the Warwickshire County Council website for information about what is available in Warwickshire.
---
We hope that our post today has given you some ideas this Loneliness Week and do let us know which titles you've been enjoying recently.
The Kenilworth Library Team