We're back with more reading recommendations from the staff at Rugby Library. This month's selection features fantasy titles, historical fiction, thrillers, non-fiction and something a little bit spooky! There are prize-winners, books about our world and titles to make you ponder.
We hope they give you some reading ideas to get you through June!
---
Angie
The Russian Cage by Charlaine Harris
The third book in the fantasy western series by Charlaine Harris sees Lizbeth Rose – a 20 year old gun for hire – travel from her rural town to a big city, home of royalty, on a personal mission to save her partner Eli who has been imprisoned.
Harris, perhaps best known as the creator of Sookie Stackhouse – whose novels the TV show True Blood was based on – only injects a sprinkling of the supernatural in this series, courtesy of magic practiced by the Grigori. But it is certainly a different world than the one we are used to. Set in an alternate 1930s, where America is shattered into several countries by the assassination of Franklin Roosevelt and the Great Depression, California is now the Holy Russian Empire!
Featuring a strong female lead with a can-do attitude, The Russian Cage is an easy and entertaining read of action, political power struggles, family drama, and a touch of romance.
The Power of Privilege: How white people can challenge racism by June Sarpong
Following the death of George Floyd and subsequent Black Lives Matter protests, many more people have had their eyes opened to systemic racism and their privilege.
This small book written by June Sarpong – the first ever 'Director of Creative Diversity' at the BBC – is about every day, actionable steps White people can take to become an ally and bring about positive change.
If you know there is a problem and are questioning what you can do to be part of the solution, this is a good, introductory, UK-focused book, on becoming anti-racist.
The Library of Lost and Found by Phaedra Patrick
I saw this book whilst shelving and of course the title caught my eye. When I read the cover and found it was about a woman who volunteered at her local library, I had to borrow it!
Martha Storm is dedicated to helping others, yet seems to find it easier to connect with books than people. This begins to change when she notices a book, left for her to find, containing a dedication written to her by her best friend – her grandmother Zelda – who died under mysterious circumstances years earlier. The book gives rise to a journey into her family's past and her new future.
The Library of Lost and Found has such vivid characters -some you love and some you love to hate. It is a bit of an emotional rollercoaster at times but a truly heart-warming read.
---
Keith
A Spell of Winter by Helen Dunmore
Winner of the very first Orange Prize for fiction in 1996, Dunmore's novel tells the story of a brother and sister, Cathy and Rob, who have been abandoned by their mother, and whose father has been committed to a sanatorium. The siblings are raised in the not-so-grand house of their grandfather and are cared for by Kate, a servant, and the reviled Miss Gallagher.
Set during the build-up to WWI, this is a dark and gothic piece of literary fiction that explores Cathy and Rob's isolated existence and dangerously intimate relationship.
Abide with Me by Elizabeth Strout
Strout is fast becoming one of my favourite authors, and this title is another example of her tenderly observed, and superbly written fiction.
This time, Strout's story is about a young, small-town priest, Tyler Caskey, who arrives in a new town with a new wife. He is an instant hit with parishioners, though some have a few misgivings about the style and attitude of his city-raised wife.
After his family is struck by tragedy, Tyler's life comes apart, his flock begins to gossip, and his faith is called into question.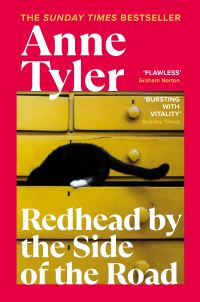 Redhead by the Side of the Road by Anne Tyler
Definitely not the biggest book in the library (a speedy reader will read this in an evening!), Tyler's latest is, as usual, a finely written, though slight, piece of work.
This time, Tyler's subject is Micah Mortimer, whose life has become nothing but a succession of habits and routines that he completes day-to-day, week-to-week. Suddenly, the teenage son of a former lover turns up at his door, and his current girlfriend decides that their relationship is over – all of which causes Micah to begin re-think his priorities and his way of life.
---
Dee
The Time Keeper by Mitch Albom
As always Mitch Albom creates a magical tale/fable that is a reflection on the obsession we have as humans with time.
The story starts with the first person on earth to mark and become obsessed with time being made by God to become Father Time and sit in a cave listening to all the voices of the world who beg for more/less time. He is given the chance to redeem himself and return to earth in the present day with a magical hourglass and a mission to teach a dying man and a suicidal girl the true meaning of time.
This is one beautifully crafted book, and I truly believe Albom is a magical storyteller who can weave so many emotions and create powerful parables that we can all relate and learn from.
The Last House on Needless Street by Catriona Ward
An intriguing thriller, which switches between four voices, that of Ted a confused childlike man whose thoughts flip between the past and the present. He lives at the end of Needless Street with Lauren, his daughter and cat, Olivia who make up two more voices and perspectives of the novel. Then there is Dee who is an angry sister of a girl who went missing from the nearby lake 11 years ago, is out for revenge and is sure that Ted had something to do with her sister's disappearence.
All four voices are so well portrayed and Olivia the vain cat that Ted suspects is gay steals the show. I totally didn't see where this book was taking me until the last few pages and what an amazing tale!
Beautifully written.
The Illness Lesson by Clare Beams
This is a tale of an American academic and writer and his daughter who embark on opening a progressive school for privileged young women in the 1870's. It is a bizarre and slow tale of relationships, secrets, the power of suggestion and imagination.
I found it quite a frustrating listen and at times wanted to give up, but I am glad I saw it through to the end. I know others would delight in the characterisation and imagery and the reality of changing people's perception and disappointment.
No wonder I was left with this overriding feeling when I finished listening!
Dolly by Susan Hill
This was a delightful trip into the dark and powerful imaginings of the mind and a moment of fascination was created in this novella for me.
Although classed as horror, this book created a feeling more akin to creepy atmospheric disturbance that leaves you feeling chilled for a while after.
The descriptive and atmospheric feeling created by Hill is true craft.
---
Karen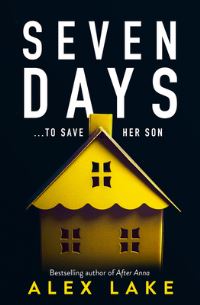 Seven Days by Alex Lake
A psychological thriller that has you on the edge of your seat right to the very last page. I had to read it in one sitting.
Maggie has been held captive in a basement for the past 12 years, since she was 15 years old. She has a son, Max who is about to turn 3 in seven days, but it isn't a time for celebration, because in Maggie's world the unthinkable happens when her child reaches 3.
Maggie knows she has just 7 days to save her son, or risk history repeating itself for the third time. Determined that the same fate will not befall Max, she has to format a plan to save him but she has no idea how.
---
Cheryl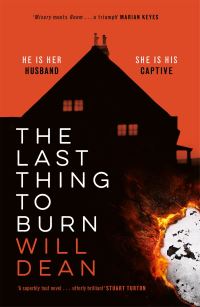 The Last Thing To Burn by Will Dean
This is a dark, intense, and disturbing story about human trafficking and captivity.
I read this book in one day, and I don't think I will ever be able to forget 'Jane' or the cruelty she endured. Jane is a young woman from Vietnam whose real name is Thanh Dao. Together with her sister, Kym-Ly, she arrives in the UK hoping for a better life. They were brought illegally into the country, where they were trafficked initially to a farm but later separated and Jane sold to a man named Lenn. Lenn keeps her captive on his isolated farm in the Fens, where he humiliates, abuses and watches her every move.
Thanh Dao is held against her will for over 7 years, and although the topic is a hard one to read, it is a book so well written and captivating. I could not put it down, as I needed to know what happened to her. One of the reviews on the cover describes the book as 'Misery meets Room' which describes it perfectly.
---
Jo
Shuggie Bain by Douglas Stuart
This book tells the story of Shuggie, the child of an alcoholic mother and philandering absent father and his life in 1980s Glasgow growing up in impoverished public housing.
It is a difficult, distressing read, and I admit that there were times, especially at the beginning, when I had to put the book down and wonder if I wanted to finish it.
Reading this book is an emotional roller coaster following the brutal ups and downs of a woman's battle with addiction and her children's battle to survive childhood. After my initial hesitancy, I took on the relentless optimism of Shuggie, willing his mother, Agnes, to conquer her demons and hoped for a happy ending.
I am eagerly waiting for a sequel.