Man Booker Shortlist is out!
Our Super Reader's Group are just starting to read them all in 5 weeks! We're then voting for the Warwickshire Winner!   Which one will have your vote? Let us know.
All books are available to borrow from the Warwickshire Libraries catalogue, follow the links below to request your copy today.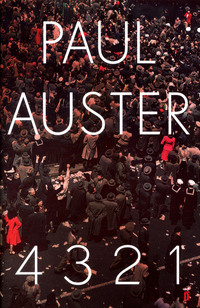 Blurb: On March 3, 1947, in the maternity ward of Beth Israel Hospital in Newark, New Jersey, Archibald Isaac Ferguson, the one and only child of Rose and Stanley Ferguson, is born. From that single beginning, Ferguson's life will take four simultaneous and independent fictional paths. Four Fergusons made of the same genetic material, four boys who are the same boy, will go on to lead four parallel and entirely different lives. Family fortunes diverge. Loves and friendships and intellectual passions contrast. Chapter by chapter, the rotating narratives evolve into an elaborate dance of inner worlds enfolded within the outer forces of history as, one by one, the intimate plot of each Ferguson's story rushes on across the tumultuous and fractured terrain of mid twentieth-century America.        
Emily Fridlund     History of Wolves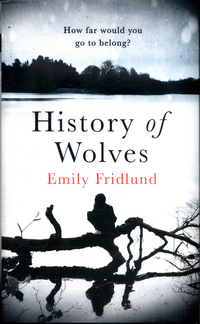 Blurb: Linda has an idiosyncratic home life: her parents live in abandoned commune cabins in northern Minnesota and are hanging on to the last vestiges of a faded counter-culture world. The kids at school call her 'Freak', or 'Commie'. She is an outsider in all things. Her understanding of the world comes from her observations at school, where her teacher is accused of possessing child pornography, and from watching the seemingly ordinary life of a family she babysits for. Yet while the accusation against the teacher is perhaps more innocent than it seemed at first, the ordinary family turns out to be more complicated. As Linda insinuates her way into the family's orbit, she realises they are hiding something. If she tells the truth, she will lose the normal family life she is beginning to enjoy with them; and if she doesn't, a life is at stake.
Moshin Hamid       Exit West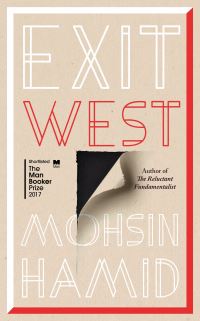 Blurb: In a city swollen by refugees but still mostly at peace, or at least not yet openly at war, Saeed and Nadia share a cup of coffee, and their story begins. It will be a love story but also a story about war and a world in crisis, about how we live now and how we might live tomorrow. Before too long, the time will come for Nadia and Saeed to leave their homeland. When the streets are no longer useable and all options are exhausted, this young couple will join the great outpouring of those fleeing a collapsing city, hoping against hope, looking for their place in the world.
Fiona Mozley       Elmet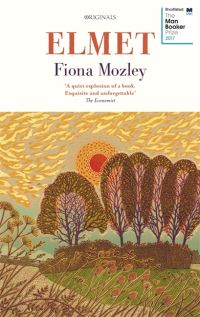 Blurb: Daniel is heading north. He is looking for someone. The simplicity of his early life with Daddy and Cathy has turned sour and fearful. They lived apart in the house that Daddy built for them with his bare hands. They foraged and hunted. When they were younger, Daniel and Cathy had gone to school. But they were not like the other children then, and they were even less like them now. Sometimes Daddy disappeared, and would return with a rage in his eyes. But when he was at home he was at peace. He told them that the little copse in Elmet was theirs alone. But that wasn't true. Local men, greedy and watchful, began to circle like vultures. All the while, the terrible violence in Daddy grew.
George Saunders      Lincoln in the Bardo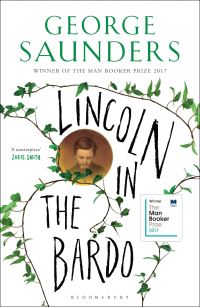 Blurb: The American Civil War rages while President Lincoln's beloved eleven-year-old son lies gravely ill. In a matter of days, Willie dies and is laid to rest in a Georgetown cemetery. Newspapers report that a grief-stricken Lincoln returns to the crypt several times alone to hold his boy's body. From this seed of historical truth, George Saunders spins an unforgettable story of familial love and loss that breaks free of realism, entering a thrilling, supernatural domain both hilarious and terrifying. Willie Lincoln finds himself trapped in a transitional realm – called, in Tibetan tradition, the bardo – and as ghosts mingle, squabble, gripe and commiserate, and stony tendrils creep towards the boy, a monumental struggle erupts over young Willie's soul.
Ali Smith        Autumn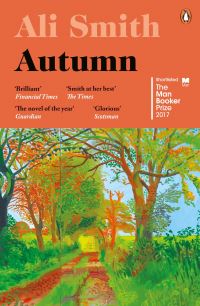 Blurb: Fusing Keatsian mists and mellow fruitfulness with the vitality, the immediacy and the colour-hit of Pop Art – via a bit of very contemporary skulduggery and skull-diggery – 'Autumn' is a witty excavation of the present by the past. The novel is a stripped-branches take on popular culture, and a meditation, in a world growing ever more bordered and exclusive, on what richness and worth are, what harvest means.
Happy Reading!