Our summer promotion Take Away Tales & other Stories is now out in libraries now. I hope you have found something to read?
 Books are a mixture of genres , with hopefully something for everyone
 Here is a selection to whet your appetite.   
 Happy Lazy Day Reading !!
The debut novel by actress and presenter Janet Ellis is set in London, in the summer of 1763. At nineteen, Anne Jaccob is awakened to the possibility of joy when she meets Fub, the butcher's apprentice, and begins to imagine a life of passion with him. The only daughter of well-to-do parents, Anne lives a sheltered life. Her home is a miserable place. Though her family want for nothing, her father is uncaring, her mother is ailing, and the baby brother who taught her to love is dead. Unfortunately her parents have already chosen a more suitable husband for her than Fub. But Anne is a determined young woman, with an idiosyncratic moral compass. In the matter of pursuing her own happiness, she shows no fear or hesitation. Even if it means getting a little blood on her hands.
The Guardian says:
"This author remains one to watch. She has a sharp eye and a sharper wit. More importantly still, she possesses a subtle and compassionate understanding of the human heart."
Everyone brave is forgiven / 2016.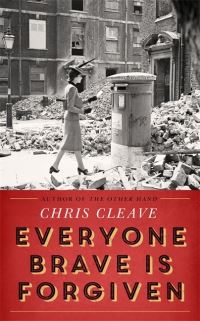 When war is declared, Mary North leaves finishing school unfinished, goes straight to the War Office, and signs up. Tom Shaw decides to give it a miss – until his flatmate Alistair unexpectedly enlists, and the conflict can no longer be avoided. Young, bright and brave, Mary is certain she'd be a marvellous spy. When she is – bewilderingly – made a teacher, she instead finds herself defying prejudice to protect the children her country would rather forget. Tom, meanwhile, finds that he will do anything for Mary. And when Mary and Alistair meet, it is love, as well as war, that will test them in ways they could not have imagined, entangling three lives in violence and passion, friendship and deception, and inexorably shaping their hopes and dreams.
The Independent says :
 "Despite their increasingly straitened and entangled circumstances – and he doesn't shy away from gory descriptions of death and destruction either – Cleave's characters hold their upper lips stiff with a brace of humour. Sure, he shines a piercing light on the untold stories of London's unloved: its maligned black citizens, and the misfit evacuees sent home, unwanted by their new families in the countryside: "We are a nation of glorious cowards," Mary tells her mother, "ready to battle any evil but our own." And there are plenty of nods to the tumultuous upheavals British society is about to undergo, but Cleave's real revisionism exists in the very fabric of his prose. The overall rather delightful effect is that of a merry band of Evelyn Waugh or Nancy Mitford creations who've taken a wrong turn somewhere along the way and ended up in a novel by Elizabeth Bowen or Henry Green, keeping calm and carrying on all the same."
In the cafe of lost youth / 2017.
Four narrators, a student from a cafe, a private detective hired by an aggrieved husband, the heroine herself and one of her lovers, construct a portrait of Jacqueline Delanque, otherwise known as Louki. The daughter of a single mother who works in the Moulin Rouge, Louki grows up in poverty in Montmartre.. She drifts into marriage with a real estate agency director, but finds no satisfaction with him or his friends and so makes the simple decision not to return to him one evening.
The haunting, melancholy atmosphere of the old working-class quartiers – their cafes, garages, run-down hotels and seedy nightclubs, the dreamlike labyrinth of boulevards, streets, squares, Métro stations – are combined in his novels with echoes of Modiano's broken and unhappy childhood.
In the Cafe of Lost Youth is vintage Patrick Modiano, an absorbing evocation of a particular Paris of the 1950s, shadowy and shady, a secret world of writers, criminals, drinkers, and drifters. The novel, inspired in part by the circle (depicted in the photographs of Ed van der Elsken) of the notorious and charismatic Guy Debord, centers on the enigmatic, waiflike figure of Louki, who catches everyone's attention even as she eludes possession or comprehension. Through the eyes of four very different narrators, including Louki herself, we contemplate her character and her fate, while Modiano explores the themes of identity, memory, time, and forgetting that are at the heart of his spellbinding and deeply moving art.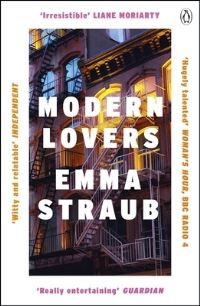 Friends and former college bandmates Elizabeth and Andrew and Zoe have watched one another marry, buy property, and start families, all while trying to hold on to the identities of their youth. But nothing ages them like having to suddenly pass the torch to their own teenage offspring. Back in the band's heyday, Elizabeth put on a snarl over her girl-next-door smile, rich-kid Andrew let his unwashed hair grow past his chin, and beautiful Zoe was the lesbian all the straight women wanted to sleep with. Now nearing 50, they all live within shouting distance in the same Brooklyn neighbourhood and the trappings of the adult world seem to have arrived with ease. But the summer that their children reach maturity, the fabric of the adult lives suddenly begins to unravel, and the secrets and revelations that are finally let loose can never be reclaimed.
From the New York Times Bestselling author of The Vacationers, Emma Straub brings us a sharply observed tale of modern love…
'Has all the pleasures of Anne Tyler's compelling family portraits . . . with a Lorrie Moore-like sense of the absurdities of contemporary life' Michiko Kakutani, New York Times
'Really entertaining. The characters are complex and likeable. It's one of those stories that makes you realise that life really does run away from you' Guardian
'Straub's characters thrum off the page. The sort of witty and relatable summer title you'll devour with a contented smack of the lips' Independent
'Funny yet tart, warm yet incisive. I adored it' Red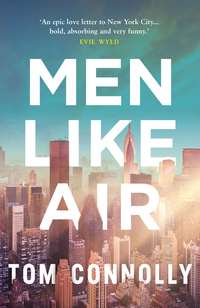 19-year-old Finn, recently arrived in New York City determined to even the score with his older brother Jack for abandoning him in the UK in the aftermath of their parents' deaths, wanders into Leo Emerson's gallery. Leo is haunted by loneliness, unsettled by the contrast between his life and that of his brother-in-law, Isador, who is contented in his faith and his marriage. Soon, a series of unexpected and interconnected events unfold, changing the lives of all four men, for better or worse.
The Bookbag says :
"This is a tender and moving read, easily reaching the core of these men and exploring their respective psyches in a probing yet gentle and respectful manner, and overall it works incredibly well as a conversation about Men, and what makes them tick. Adding to that a layer of clever comedy, at times witty and at times almost slapstick, which combined with the deep emotions and tenderness of the main plot, leads to a book that had me crying with laughter one moment, and close to tears of sadness the next – it's that powerful a read.
All of the men are immensely likeable, all flawed, and all relatable – and it's genuinely a pleasure to spend a few hours in their company when reading. In fact, all of the secondary characters are very well drawn too – the only one who got on my nerves somewhat was Finn's girlfriend Dilly – and that was definitely a choice on the authors' part. Decisions these characters make provide fantastic moments throughout the book, and the air of unpredictability throughout is both charming and engaging – making this a must read book."
The summer before the war / 2017.
East Sussex, 1914, the end of England's brief Edwardian summer. Agatha lives with her husband in the small, idyllic coastal town of Rye. He works in the Foreign Office, and Agatha is certain he will ensure that the recent sabre rattling over the Balkans won't come to anything. And she has more immediate concerns; she has just risked her carefully built reputation by pushing for the appointment of a woman to replace the Latin master. However, when Beatrice Nash arrives, it is clear she is significantly more free thinking – and attractive – than anyone believes a Latin teacher should be. For her part, mourning the death of her beloved father, Beatrice simply wants to be left alone to pursue her teaching and writing. But just as she comes alive to the beauty of the Sussex landscape, and the colourful characters that populate Rye, that perfect summer is about to end.
Radiant … I found myself turning pages with increasing awe as well as pleasure. The provincial village of Rye, Sussex in the days just before and after the Great War is so vividly drawn it fairly vibrates – but it's the depth and sensitivity with which Simonson weighs the steep costs and delicate bonds of wartime – and not just for the young men in the trenches, but for every changed life and heart – that reveals the full mastery of her storytelling. Like a Jane Austen or Henry James for our day and age, Simonson is that good, and The Summer Before the War is nothing short of a treasure" –  Paula McLain, author of The Paris Wife,
In the noisy world of today it is a delight to find a novel that dares to assert itself quietly but with the lovely rhythm of Helen Simonson's funny, comforting, and intelligent debut" –  Elizabeth Strout, Pulitzer Prize-winning author of 'Olive Kitteridge',
"Words cannot convey the slow-burning pleasure" –  The Times
"Funny, barbed, delightfully winsome storytelling … It's about intelligence, heart, dignity and backbone" –  New York Times
"A beautiful little love story" –  Alexander McCall Smith,