One night just after Christmas in 2003, Joan's husband, John Gregory Dunne, suffers a heart attack in their home, and is pronounced dead soon afterwards. The Year of Magical Thinking is a memoir of Joan's mourning, written gradually in the months after his death.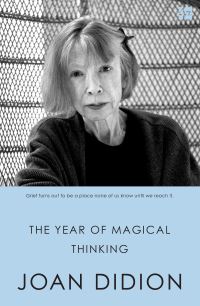 My main thought about the book (the second book mentioned on the Guardian's 100 Best Non-Fiction list) is that I was not profoundly affected by it in the way that I imagine it affects others. This is probably because I am lucky enough so far in life not to have lost anyone particularly close to me. Even for a married couple, Didion and Dunne were particularly close – they both worked as writers from their home, and so lived and worked side by side daily for more than thirty years. So there was a barrier for me – I could not quite understand her depth of sorrow or painful progression in a way that someone who had been widowed or lost a loved one could.
Having said that, I don't feel like the book is a waste of time. Didion is a brilliant writer, and gracefully moves back and forth in time as she writes, transporting you along with her thoughts. Although I couldn't empathise to the extent of some readers, I feel as though I have seen through a window into grief. Her description of mourning is raw and honest – how she overwhelms herself with medical textbooks, just so she can understand how and when her husband died. Chance remarks he made before he died become suddenly important. She describes how she looks up something in his dictionary and she loses the original page he had left it open on – what did he last look up? Might it have helped her now? How she refuses to delete his answer-phone message on their shared machine.
Didion describes how, in reading up about grief, she read many medical accounts that explained that grief is actually a form of mental illness, a kind of depression – but that this isn't generally acknowledged. Grief and mourning are tidied away into privacy. They follow etiquette. There is a certain expected trajectory for a mourner – emotional grief, followed by the closure of a funeral, and then eventually a rebalance – back to normal.
But as Didion explains grief isn't that simple. Even today I saw on a website the headline that losing your life-partner can 'age the brain by four years'. Death is devastating – perhaps more mentally devastating to some than we sometimes realise. Didion has allowed me to understand that, in this very honest and beautifully written account.
(Posted by R.L, Rugby Library) The first instalment from this non-fiction challenge can be read here.